Summary
Apple will officially unveil the new iPhone 15 family in less than two weeks, on Tuesday, September 12th, but even now we know almost everything about these upcoming phones thanks to a myriad of leaks and rumors.
And the iPhone 15 series shapes up to be one of the biggest upgrades in the iPhone family since the very start, so there is definitely a lot to be excited about.
iPhone 15 At a Glance
Apple is going to introduce four new iPhone models, similar to what they did with the iPhone 14 series. These new models are called iPhone 15, iPhone 15 Plus, iPhone 15 Pro, and iPhone 15 Pro Max.
Out of these, two iPhones have smaller screens (6.1 inches), and the other two have bigger screens (6.7 inches). The cheapest one is the regular iPhone 15, which has two cameras on the back. A bit more expensive is the iPhone 15 Plus with a bigger battery, but it also has two cameras.
Then come the more expensive Pro models. Both of these will have a new chip called A17 Bionic and more memory (RAM). The smaller iPhone 15 Pro has three cameras on the back that people are used to. The bigger iPhone 15 Pro Max is special because it's the first iPhone to have a zoom camera that can see far away.
Now, let's talk about the ten most important things about the iPhone 15:
All four iPhone 15 models will use a different kind of charging port called USB-C.
They will all have something called Dynamic Island.
The smaller iPhone 15 and 15 Plus will work with a chip called A16.
The bigger and fancier iPhone 15 Pro and 15 Pro Max will use a better chip called A17.
The Pro iPhones will be a bit lighter because they'll use a lighter material called titanium instead of steel.
The iPhone 15 Pro models will have a special button instead of the usual mute switch.
The batteries in all four iPhones might be bigger.
The biggest iPhone, the 15 Pro Max, will have a new camera that can see far away things.
The regular iPhone 15 will have a better main camera that takes clearer pictures.
The fancier Pro iPhones might charge faster with a wire.
These are the important new things about the iPhone 15, but there are more cool features to learn about. Keep reading to know everything about the new iPhone 15 family!
(We continuously update this page as new info comes in. Header image credit — PhoneArena)
Latest iPhone 15 news
iPhone 15 release date
Apple has a fixed schedule for iPhone launched that hasn't changed in years: the official announcement happens in early to mid September, while the release date follows roughly 10 days after the official event.
Apple has now officially confirmed that it will hold its iPhone 15 event on Tuesday, September 12th, 2023 starting at 10am PT, and the actual in-store iPhone 15 release should happen the next Friday, Sept 22nd.
| Device family | Expected Announcement | Expected market release |
| --- | --- | --- |
| Apple iPhone 13 series | Sept 14, 2021 | Sept 24, 2021 |
| Apple iPhone 14 series | Sept 7, 2022 | Sept 16, 2022 |
| Apple iPhone 15 series | Sept 12, 2023 | Sept 22, 2023 (probable date) |
iPhone 15 price
Higher price for the Pro models, but expect some sweet trade-in deals at carriers
Although we have information about the new features, the exact prices of the upcoming iPhone 15 series are still unknown. Recent reports suggest that Apple might raise the prices for the Pro models, and there's even talk that the regular models could also become a bit more expensive. The main reason for these higher prices is the increased cost of the new processors, but there could be other factors at play as well.
The first mention of a possible price increase for the iPhone 15 Pro came back in January from a popular user on the Chinese microblog Weibo. This report hinted at higher prices for the Pro models but didn't specify the exact amount.
In March, a more reliable source, industry analyst Jeff Pu from Hong Kong's Haitong International Securities, made a prediction about the price increase for the Pro models. He explained that the better hardware components, like the new titanium frame, advanced A17 chip, more RAM, and the special zoom lens in the Pro Max model, were driving up the costs. However, this report also mentioned rumored haptic buttons as a reason for the price hike. Since then, it's been said that Apple won't be using those haptic buttons and will stick to regular physical buttons instead.
For the past few years, the smaller iPhone Pro started at $999, and the larger iPhone Pro Max began at $1,099 in the United States. If these reports are accurate, it's possible that the starting prices of the Pro iPhones could go up by $100.
In June, a Wall Street analyst predicted that the price increase might affect the regular iPhone 15 and iPhone 15 Plus models as well. We don't have enough evidence to confirm this yet, but it's certainly a possibility.
In late July, Bloomberg also confirmed the expectations of higher prices for the iPhone 15 Pro and Pro Max models.
It's important to note that we're discussing prices in the United States. Last year, Apple kept the prices of the iPhone 14 unchanged in the US, but there were significant price increases in the UK and Europe. We don't know for sure if Apple is planning to raise prices again for those countries.
iPhone 15 expected US prices:
starting from $800 or $850 if there is a price hike
iPhone 15 Plus expected prices:
starting from $900 or $950 if there is a price hike
iPhone 15 Pro expected prices:
$1099 for 256GB
$1299 for 512GB
$1499 for 1TB
*iPhone 15 Pro prices are rumored to go up by $100.
iPhone 15 Pro Max expected prices:
$1199 for 256GB
$1399 for 512GB
$1599 for 1TB
*iPhone 15 Pro Max prices are rumored to go up by $100.

Apple is really excited about the new iPhone 15 Pro and thinks a lot of people will want to buy it. They've ordered many more screens for it compared to last year's iPhone 14 Pro. This might make the iPhone 15 Pro the most popular one this year.
Also, there's some news that phone companies will give good offers if you trade in your old phone for the new iPhone 15 Pro. So, it could be a good idea to wait a bit before buying it to get the best deal instead of buying it right away when they announce it.
iPhone 15 expected name
The new iPhones coming in 2023 are likely to be called the "iPhone 15" series. This name is almost certain because Apple hasn't used the "S" name in recent years. So, names like "iPhone 14S" are not likely.
However, there's some confusion about one of the models. In September 2022, a well-known Apple expert named Mark Gurman said that the biggest model might be called "iPhone 15 Ultra" because of its many new features. But in February 2023, Gurman changed his mind and said that Apple might actually release a special "Ultra" model next year, in 2024, along with five iPhone 16 models.
For this year, we expect four iPhone 15 models with these names:
iPhone 15
iPhone 15 Plus
iPhone 15 Pro
iPhone 15 Pro Max (or maybe even iPhone 15 Ultra, but it's not very likely)
So, it might seem a bit complicated, but those are the names we're looking forward to this year.
iPhone 15 expected camera features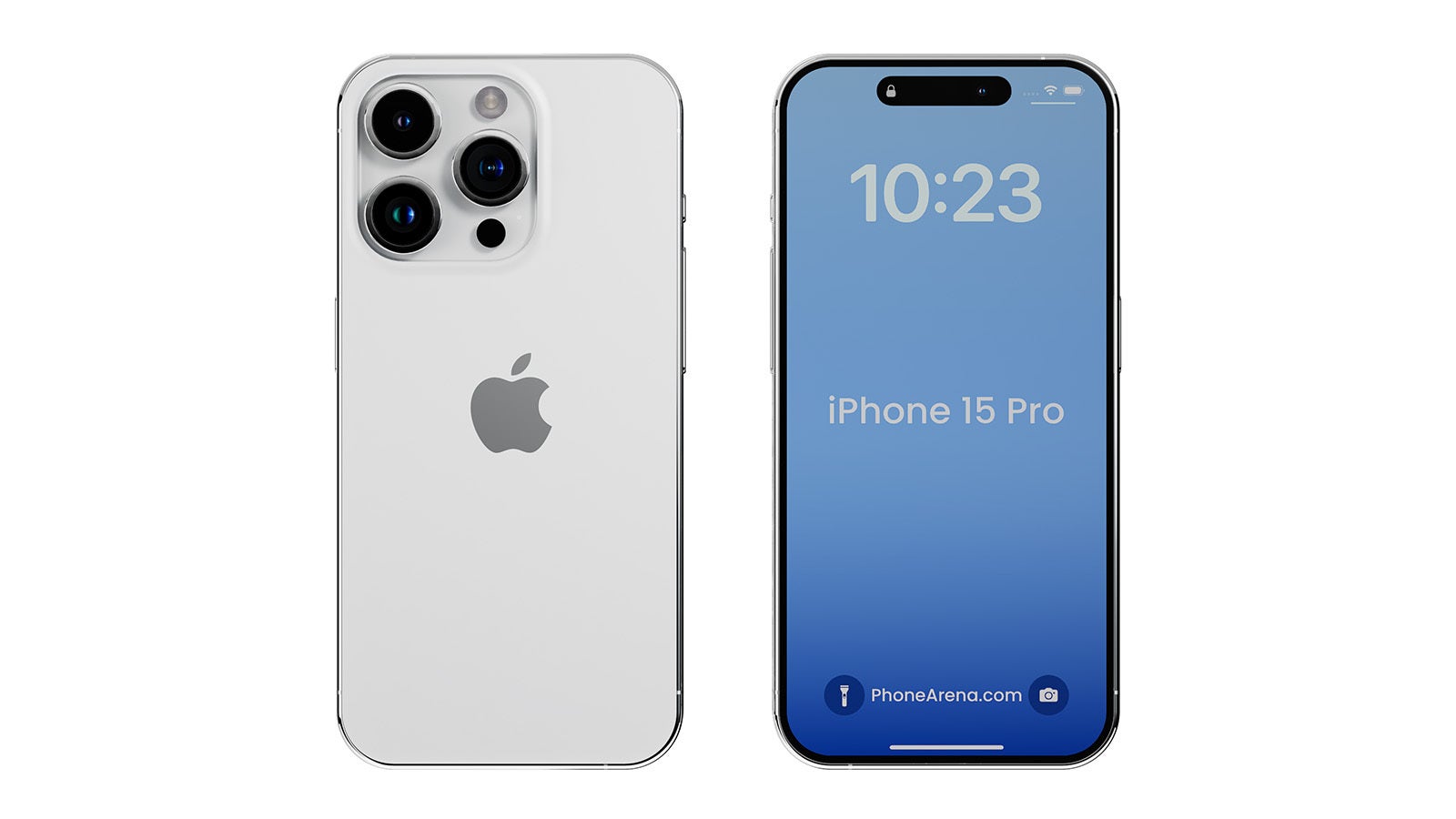 (Image Credit – PhoneArena) iPhone 15 Pro Max should get a new periscope zoom camera
The leaked information so far suggests that the iPhone 15 and 15 Plus models will have two cameras on the back, while the Pro and Pro Max models will come with three cameras. This third camera will be a zoom lens. The iPhone 15 Pro will have a familiar 3X zoom lens, but the larger iPhone 15 Pro Max will have an all-new 5X or 6X periscope zoom camera.
These periscope zoom cameras have been used in high-end Android phones for a while, but this will be the first time they're included in an iPhone. It's a significant development for the iPhone's camera system. This long-range zoom lens is expected to have a 12MP sensor, which is quite exciting.
Camera Specs*
Specs
Wide camera (all iPhone 15 models)
48MP on 15 and 15 Plus
*sensor size upgraded to 1/1.5-inch from 1/1.9-inch

48MP on 15 Pro and 15 Pro Max
*sensor size is 1/1.28-inch, same as on 14 Pro series
Ultra-wide (all iPhone 15 models)
12MP, f/2.4 on 15 and 15 Plus
12MP, f/2.2 on 15 Pro and 15 Pro Max
Telephoto (only 15 Pro model)
12MP, f/2.8, 3X zoom
Telephoto #2 (only 15 Pro Max)
12MP 6X zoom periscope
Front camera (all iPhone 15 models)
12MP, f/1.9, auto-focus
*based on early leaks and rumors.
Higher resolution cameras for the vanilla models?
In January, there was a report that said the iPhone 15 and iPhone 15 Plus models would have a bigger 48MP main camera sensor, similar to the one in the iPhone 14 Pro series. This report came from a popular source on Weibo. Later on, well-known analysts Jeff Pu and Ming-Chi Kuo also released reports with similar expectations. Then, in late July, another popular analyst named Digital Chat Station confirmed that the 48-megapixel sensors were indeed coming, but they would be a bit smaller than the ones in the Pro models.
If this is true, it's really exciting and a major improvement for the regular iPhone 15 models. Going from the previous 12MP sensors to a 48MP sensor means more details in photos, and it might even let people take higher-quality ProRAW photos.
This could also mean that the regular iPhone 15 models might get a 2X "lossless" zoom using a technique called sensor cropping, just like the iPhone 14 Pro models. This would result in better zoom quality and improved portrait photos. Currently, regular iPhone 14 models can only take wide portraits at 1X zoom, which isn't the best for portraits. Having a 2X portrait mode would make portrait shots look much better.
What camera upgrades will the Pro models get?
When it comes to the camera setup, there are some interesting changes for this year's iPhones. The main camera might have one glass lens and six plastic lens elements. Also, the aperture, which controls how much light enters the camera, could go from f/1.75 to f/1.7. This change is expected to improve how much light the main camera captures by around 15% to 20%.
For the iPhone 15 Pro Max, there's a unique arrangement where the periscope zoom lens will be in the middle, switching places with the ultra-wide camera which will move to the top position.
The big talk this year is about the new periscope zoom lens, something only available on the iPhone 15 Pro Max. A company called Lante Optics is said to be working on making the prism needed for this lens.
Famous analyst Ming-Chi Kuo said a while ago that the 5-6X periscope zoom lens would only be on the iPhone 15 Pro Max. Cheaper iPhones and even the smaller iPhone 15 Pro won't have this lens due to space limitations. However, next year's iPhone 16 Pro might get it. Recent reports in April 2023 supported this idea.
There's even a rumor that Apple might make the periscope lens have a moving part to offer different levels of zoom, unlike other phones with fixed zoom. But this is a wild idea and should be taken with caution.
Lastly, the camera app could also get new features, though details about those are scarce for now. We'll update as we get more info.
iPhone 15 storage specs
Apple has been equipping all iPhone models with 128GB of storage as a baseline, but this is expected to change once the iPhone 15 series launch.
Below you can find different storage versions for each iPhone 15 model that we expect to see based on the leaks and rumors. The regular iPhone 15 and 15 Plus models are expected to come with 128GB of storage, but the iPhone 15 Pro and iPhone 15 Pro Max are projected to start at 256GB storage, which is double what we had before!
iPhone 15 / 15 Plus expected storage capacity:
iPhone 15 Pro / 15 Pro Max expected storage capacity:
256 GB
512 GB
1 TB
2 TB (possible)
iPhone 15 design features
iPhone 15 Pro models to swap stainless steel for much lighter titanium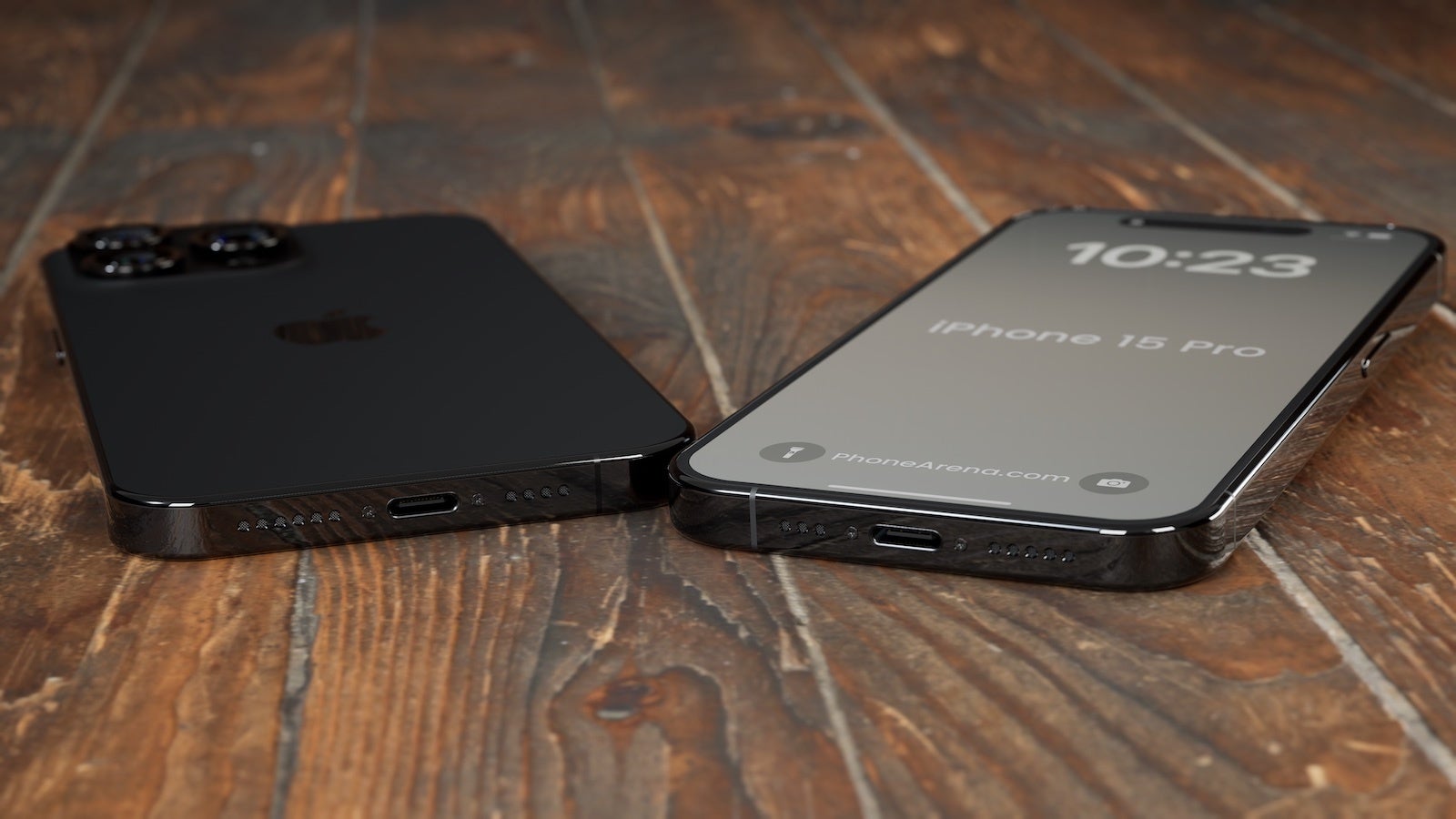 (Image Credit – PhoneArena) iPhone 15 Pro render based on leaks shows the anticipated USB-C port
We have already seen leaked CAD renders which reveal the size and design style of the iPhone 15 Pro, and just look at that giant camera on the back! The iPhone 14 Pro already had a pretty large camera bump, and the one on the iPhone 15 Pro is even bigger.
The elephant in the room, however, has got to be the switch to a USB-C port from Lightning.
For years, Apple has resisted using a USB-C port on the iPhone, despite using one for its iPads (first on an iPad Pro in 2018) and Macbooks (first in 2015), but new regulation from the European Commission seems to have finally forced it to make the switch.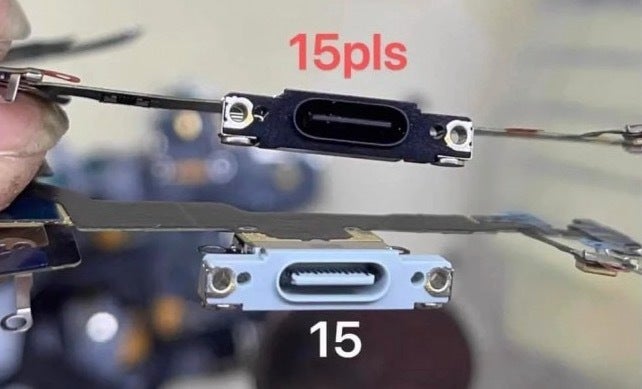 Leaked photo shows alleged USB-C port component on iPhone 15
One of the most reliable Apple insiders, Mark Gurman, says that USB-C is "essentially a lock" for the iPhone 15. Renowned insider Ming-Chi Kuo also confirms this.
And leaked CAD renders obtained by 9to5Mac in February 2023 showcase that all new iPhone 15 models will indeed make the switch to type C.
Faster USB-C transfer speeds on iPhone 15 Pro models
The latest rumors suggest that the Pro and Pro Max models of the iPhone 15 might have faster USB transfer speeds due to a new port. This new port could support USB 3.2 (20 Gbps) or even Thunderbolt 3 (40 Gbps) speeds. It's not clear if the regular iPhone 15 and iPhone 15 Plus will also have these faster speeds or if they'll stick with the slower USB 2.0 speeds (up to 480 Mbps) like previous models with the Lightning connector.
There's also confusion about the type of USB-C cable that will come in the box. Recent leaks hint that some iPhone 15 models might include a USB-C cable that only supports USB 2.0 speeds. This could mean you'd need to buy a faster cable separately, especially if you want a Thunderbolt 3 cable, which can be expensive. Apple's official Thunderbolt 3 cables cost $39 for the shorter one and a whopping $129 for the longer version.
At first, there were reports that Apple might use MFi USB-C certification, which would mean only certified cables and chargers would provide fast charging speeds. However, recent leaks suggest this won't be the case. It's also uncertain if you'll be able to use just any SSD for transferring files, or if transfers will only work with Apple-approved accessories. A source named @ShrimpApplePro claims that cables without MFi certification will have limited speeds for data and charging, but we'll have to wait until the new iPhones are officially released to confirm how this will work.
In terms of design, the new iPhones are expected to have a similar look to the current models, with some minor changes. The phones will still have flat sides and screens, but the screen borders might be curved to resemble the Apple Watch's appearance. The screen sizes, 6.1″ and 6.7″, are expected to remain the same.
However, the cases for the iPhone 15 will have slightly different dimensions. This means that your existing iPhone 14 or iPhone 13 cases will not fit the iPhone 15 models properly.
iPhone with Titanium instead of Aluminum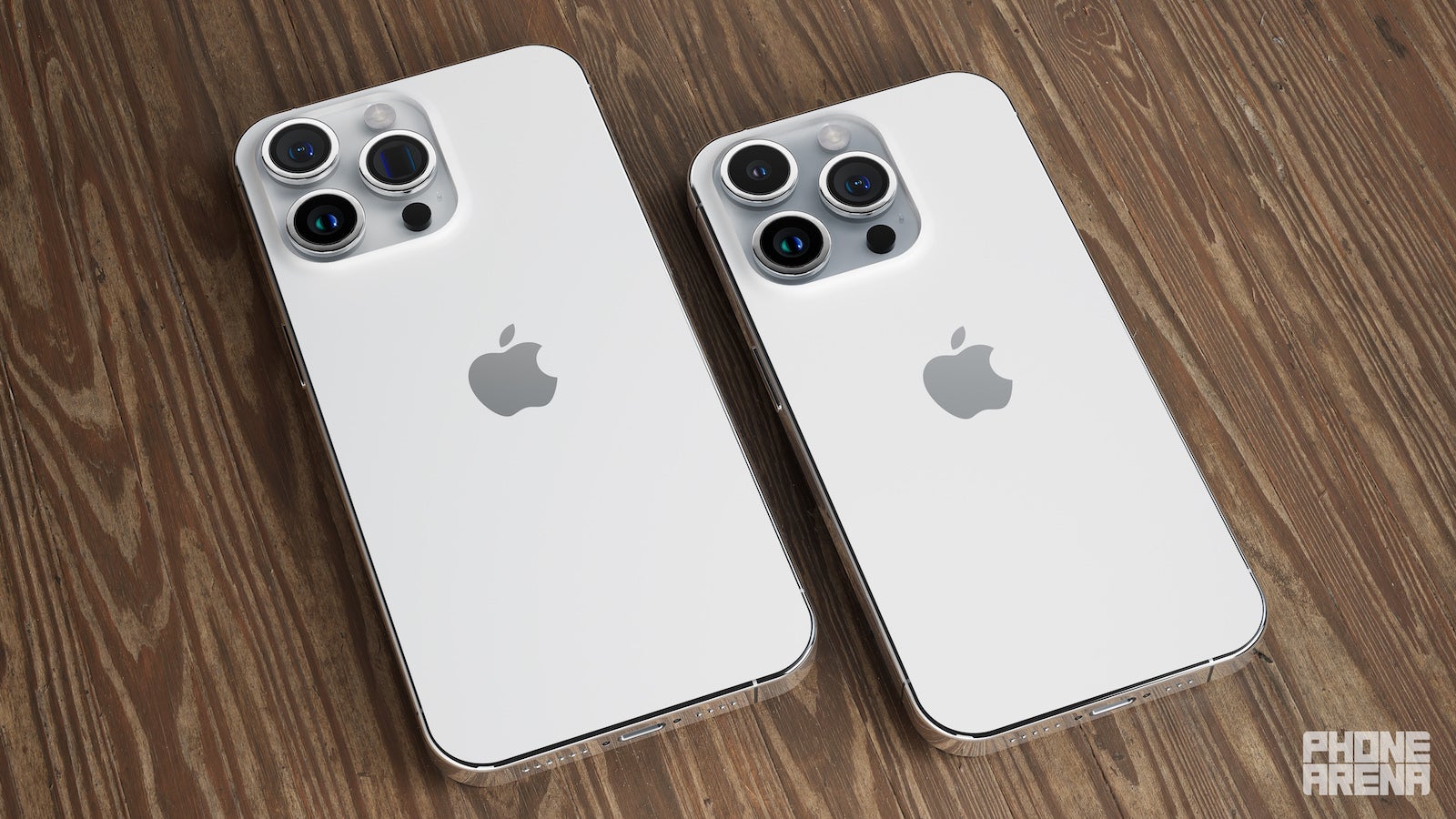 (Image Credit-PhoneArena) iPhone 15 series renders

Even though the appearance might stay quite similar, Apple is said to be addressing a major concern that many people have with the current Pro series iPhones: their weight.
While the regular iPhone 15 and 15 Plus models are expected to keep their aluminum frames, the Pro versions will reportedly switch from stainless steel to titanium. Titanium is a much lighter material that Apple also uses for products like the Apple Watch Ultra.
For instance, on Apple Watches, the titanium model is about 10% lighter than the stainless steel version of the same watch. So, while it might not be as lightweight as aluminum, using titanium would still be a noticeable improvement over stainless steel. Recent information even provides the exact weight of the upcoming iPhone 15 Pro models.
Expected iPhone 15 Pro series weight reduction:
iPhone 15 Pro vs 14 Pro weight: 191g vs 206g (7% lighter)
iPhone 15 Pro Max vs 14 Pro Max weight: 221g vs 240g (8% lighter)
Titanium also has superb scratch resistance, as brushed titanium hides micro-scratches better than stainless steel. We are really happy about this development: making the Pro models lighter has long been on our wish list!
Haptic button vs Physical buttons on iPhone 15 Pro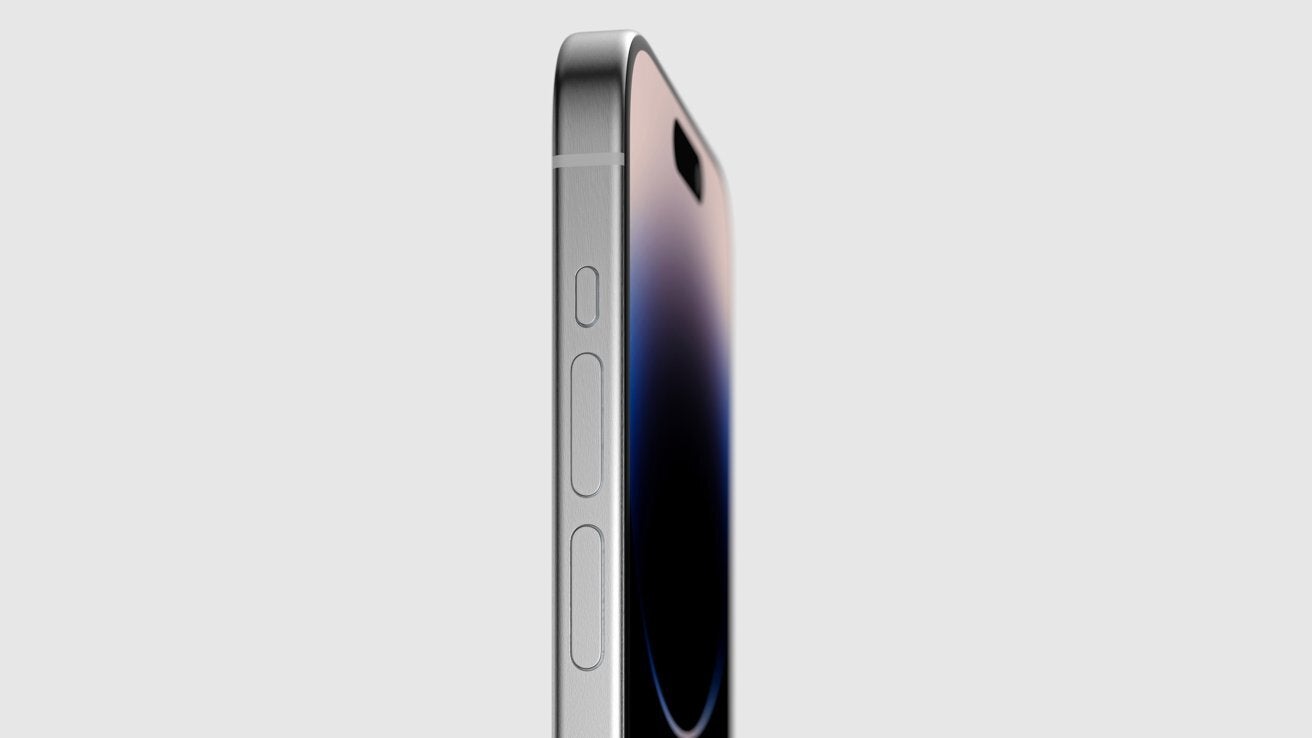 There were rumors that the iPhone 15 Pro and iPhone 15 Pro Max models might replace the physical power and volume keys with solid-state ones. This would have been a big change. However, in April, news came out that Apple was having problems with these new haptic buttons, so this change won't happen, at least not this year. As a result, all iPhone 15 models will continue to have the usual physical keys, just like previous iPhones.
Leaked case designs suggest there could be tiny differences in the placement of the buttons. The power and volume buttons appear to be positioned slightly lower compared to their counterparts on the iPhone 14. This means that existing cases might not fit the upcoming iPhone 15 due to these small changes in button placement.
New Action Button on Pro series
Even though the power and volume keys are staying the same, there's an expected change to the Mute switch, at least for the Pro models of the iPhone 15.
Apple is planning to replace the Mute switch with a new "Action Button" on the iPhone 15 Pro and Pro Max. This button will still allow you to mute and unmute the device, but it will also be programmable for various other functions. For example, you might be able to press it to quickly open the camera.
Speaking of significant changes, a notable update is coming to even the regular iPhone 15 and iPhone 15 Plus models. It's called the "Dynamic Island," a feature that was introduced with the iPhone 14 Pro models last year. This change will eliminate the notch that first appeared on the iPhone X in 2017. So, the upcoming iPhone models will have a different design with the removal of the notch.
iPhone 15 Face ID

Apple is planning to use the same Face ID and Dynamic Island system that it introduced with the iPhone 14 Pro series across all four models of the iPhone 15.
However, according to analysts, Apple is working on an advanced "invisible" or under-display Face ID system for future iPhones. This new system won't be included in the iPhone 15 series, but there are suggestions from sources like the Korean publication The Elec that certain iPhone 16 models might have it by 2024. Other experts, such as analyst Ross Young, also believe that Apple is developing this feature, but it might not be available until the iPhone 17 lineup or later.
If this system comes to fruition, it would be a significant improvement, allowing users to utilize the entire screen without any interruptions from a front camera notch.
iPhone 15 colors
The anticipated color options for the upcoming iPhone 15 models have been revealed:
For the regular iPhone 15 and iPhone 15 Plus, you can expect five glossy finish color choices:
Midnight
Blue
Green
Yellow
Pink
Meanwhile, the iPhone 15 Pro and iPhone 15 Pro Max will come in a matte glass finish with four color options:
Earlier rumors suggested there might be a new "deep red" color for the iPhone 15 Pro, but it seems that rumor was incorrect.
Instead, recent information suggests that Apple will introduce a new "Gray" color to match the gray shade of the new titanium frame for the iPhone 15 Pro and Pro Max. Additionally, a "Deep Blue" color option will replace last year's "Deep Purple." Interestingly, there won't be a gold version available this year. So, those are the upcoming color choices for the iPhone 15 models.
Rumored iPhone 15 Pro and iPhone 15 Pro Max color options:
Space Black
Silver
Gray
Deep Blue
Which of these would you go for?
iPhone 15 display specs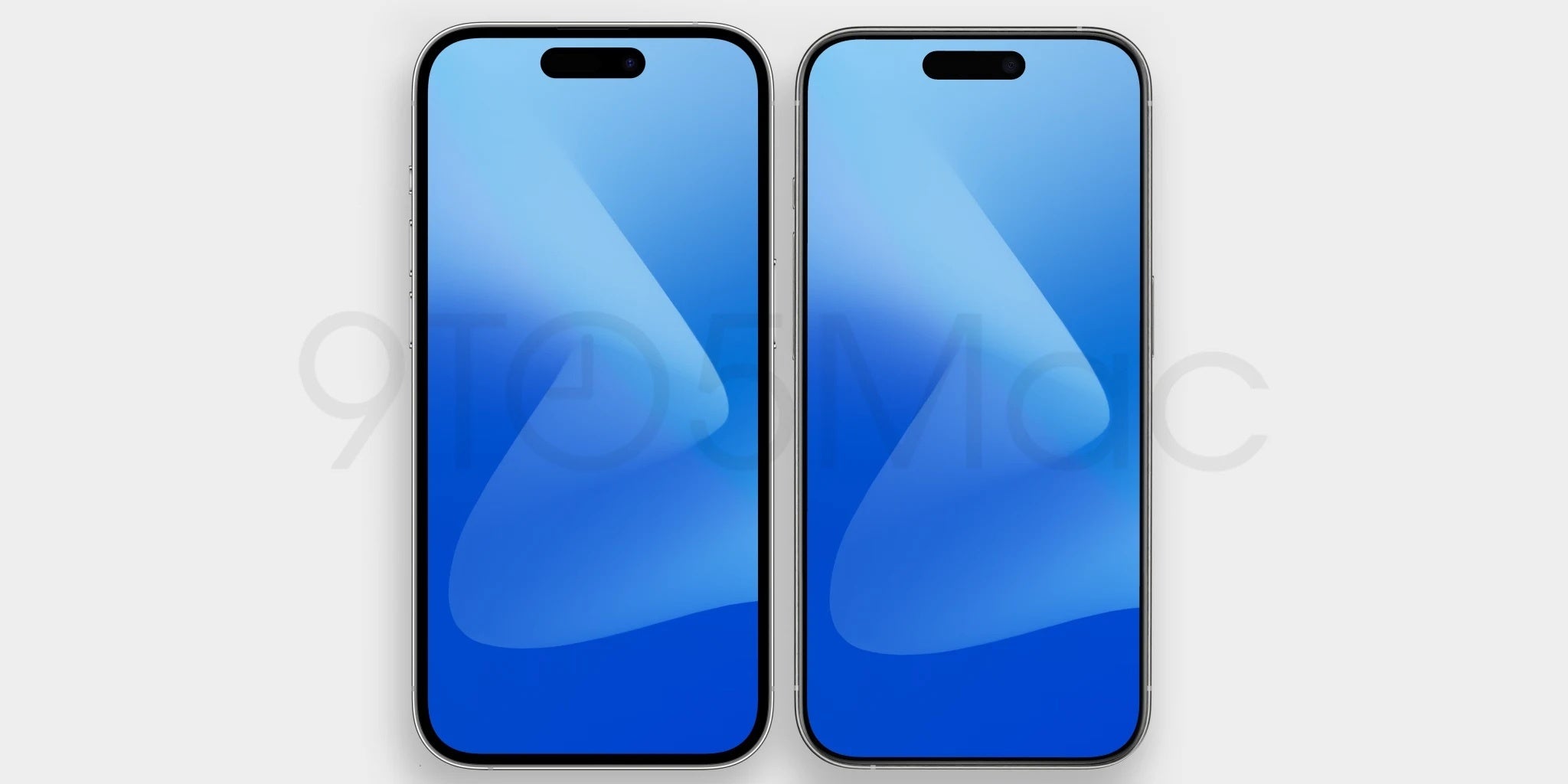 (Image Credit – 9to5Mac) The iPhone 15 Pro will have much thinner bezel according to leaks
Apple seems to have found the right screen sizes, and there likely won't be any big changes. The iPhone 15 and 15 Pro are expected to have a 6.1-inch screen, while the iPhone 15 Plus and 15 Pro Max will likely feature a 6.7-inch screen.
Some recent rumors suggest that the smaller models might have a slightly larger 6.2-inch screen, but this hasn't been confirmed yet, so it's best to be cautious about this information.
What's more certain is that all four models will use OLED screens, with slight variations in peak brightness. The Pro and Pro Max models will have screens that can get brighter.
The ProMotion 120Hz feature, which makes the screen smoother, is expected to be available only on the Pro and Pro Max models.
According to a report from another reliable source, @AppleShrimpPro, there's a possibility that the iPhone 15 Pro could have a screen that becomes even brighter during the day. This improved display might achieve a peak brightness of 2,500 nits, up from the already impressive 2,000-nit maximum brightness on the iPhone 14 Pro. This improvement would make the screen much easier to see outdoors.
iPhone 15 processor and specs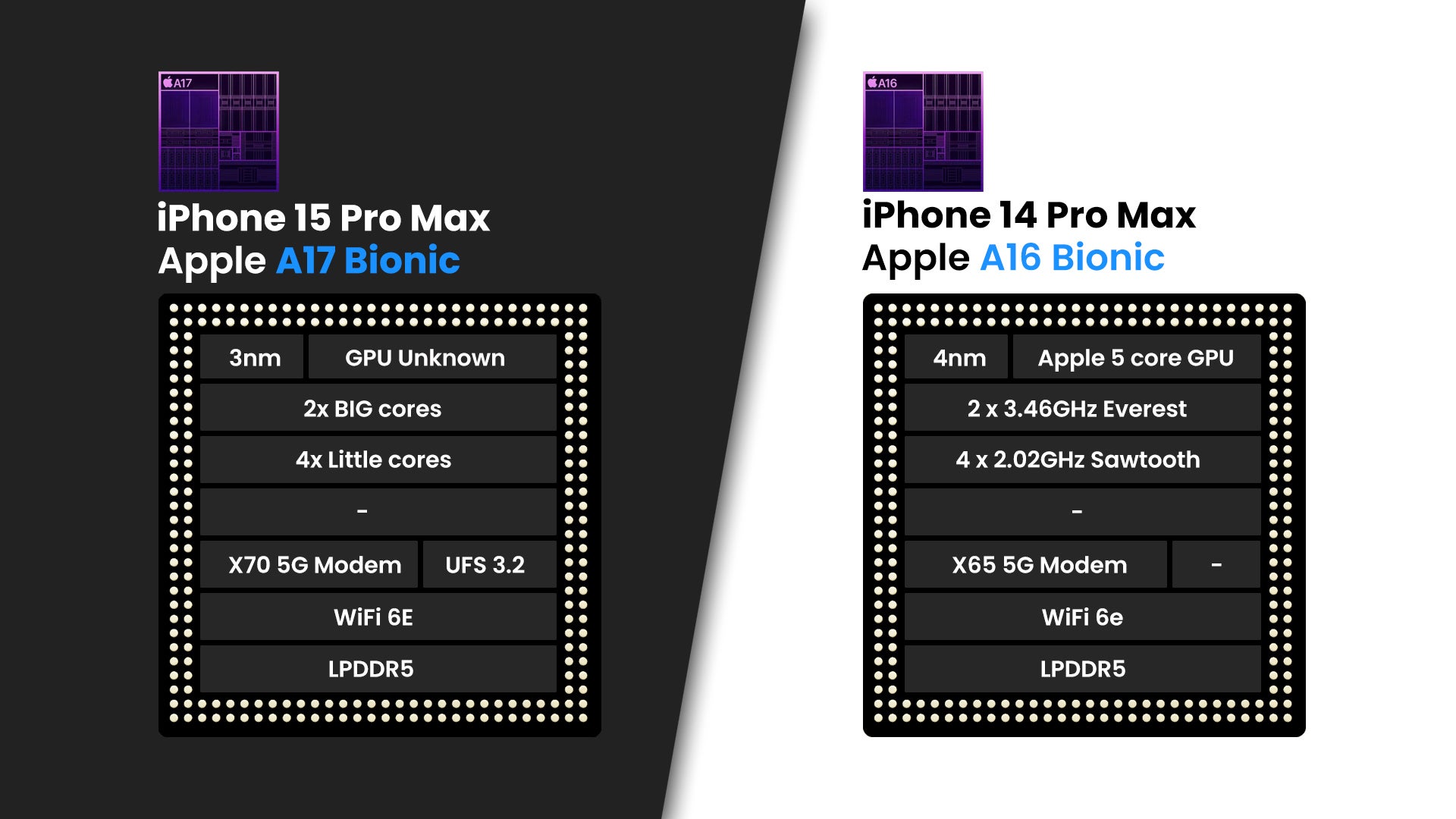 When it comes to processors, it's expected that the regular iPhone 15 and iPhone 15 Plus models will use the Apple A16 Bionic chip, the same one found in the iPhone 14 Pro series. On the other hand, the iPhone 15 Pro and iPhone 15 Pro Max will feature the next-generation Apple A17 Bionic processor, which is built using new and more efficient 3nm technology.
This means that the Pro and Pro Max models will be significantly faster. The new A17 chip is rumored to come with a six-core CPU, similar to the previous version, but it's also expected to have a six-core GPU. This is an upgrade from the five-core GPU found in the A16 chip.
About a month before the official announcement, a leaked GeekBench 6 score was released, showing a substantial improvement in performance. However, it's important to note that this leaked score comes from an unverified source using unofficial devices. So, there's no way to confirm if the final devices will indeed have the same level of performance.
| | |
| --- | --- |
| Geekbench 6 SingleHIGHER IS BETTER | Apple iPhone 15 Pro3269Apple iPhone 14 Pro2517Apple iPhone 13 Pro2300Samsung Galaxy S23 Ultra1971 |
| Geekbench 6 MultiHIGHER IS BETTER | Apple iPhone 15 Pro7666Apple iPhone 14 Pro6289Apple iPhone 13 Pro5732Samsung Galaxy S23 Ultra5115 |
All four iPhone 15 models are expected to share the same Qualcomm-made modem. Despite Apple's efforts to develop its own modems, it seems Qualcomm's technology will be used in the iPhone 15 family due to the challenges Apple faced in creating its own.
An anticipated upgrade involves the RAM. The Pro and Pro Max models are rumored to receive a bump to 8GB of RAM, while the 15 and 15 Plus models may stick with 6GB of RAM. However, recent rumors suggest that Apple might also keep the Pro models at 6GB of RAM.
Satellite connectivity, which was introduced with the iPhone 14, is expected to be further improved in the iPhone 15 models.
In terms of connectivity, a report in July suggested that the iPhone 15 Pro and Pro Max models will support Wi-Fi 6E, while the regular models will be limited to Wi-Fi 6. Wi-Fi 6E is an advancement that adds support for 6GHz Wi-Fi networks, offering faster speeds, lower latency, and reduced interference. However, you'll need a compatible Wi-Fi 6E router to take advantage of these benefits.
Additionally, reports in June indicated that the iPhone 15 family will include a new Ultra Wideband (UWB) chip, known as the U1 chip. The updated version of this chip, built using a more advanced 7nm process (compared to the current 16nm), is expected to improve the Precision Finding feature used for locating devices and integrating Apple products with the new Vision Pro headset. This chip debuted on the iPhone 11 series and has been included in subsequent iPhone model.
iPhone 15 battery and charging specs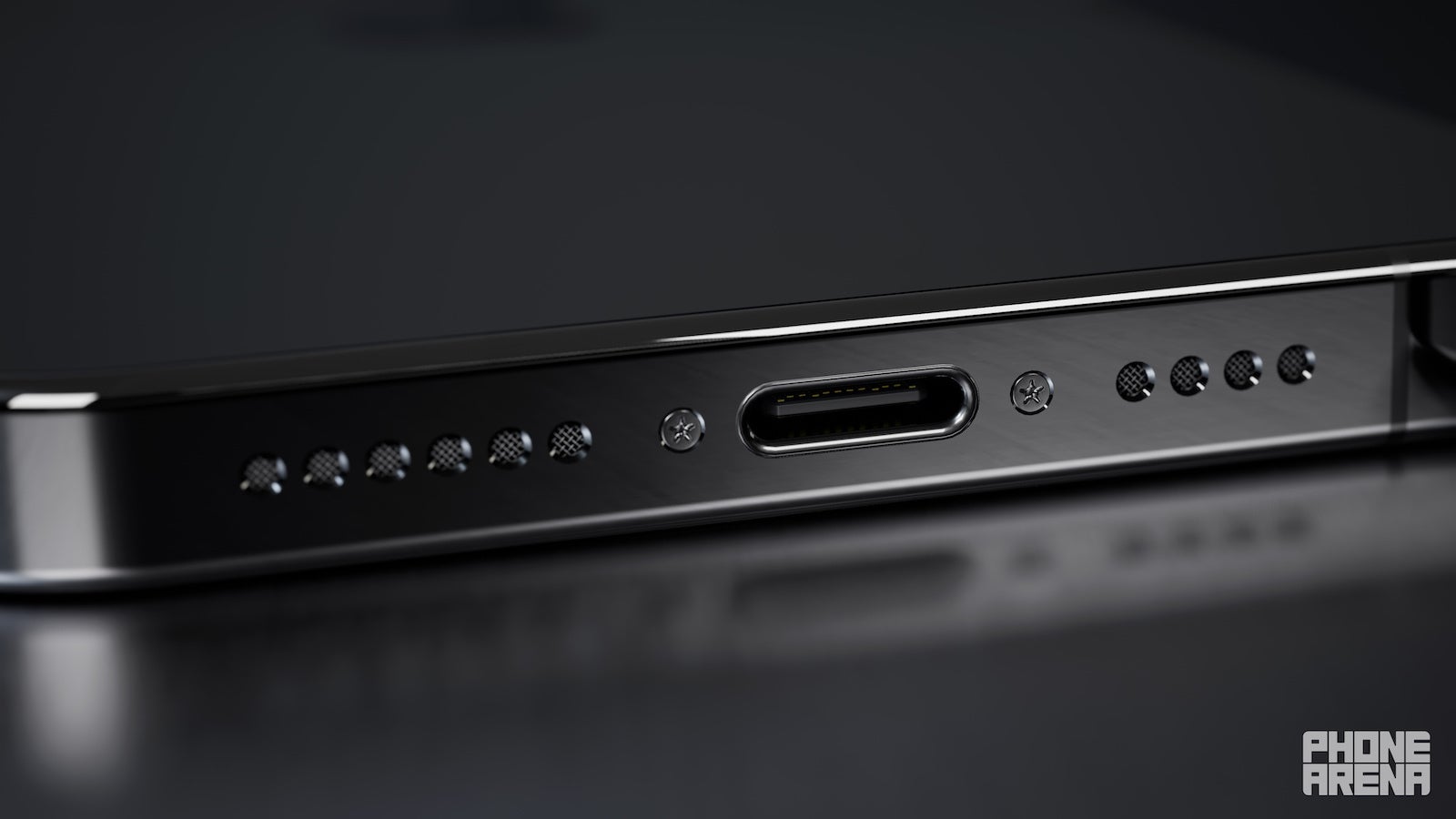 (Image Credit – PhoneArena) USB-C port on iPhone 15 series
While Apple typically sticks to its existing design patterns, the iPhone 15 family might bring some notable changes. A report from July, reportedly from a Foxconn employee, indicates that there could be significant battery size increases across all four iPhone 15 models. The regular iPhone 15 might see an 18% larger battery, and the iPhone 15 Pro Max could feature a 12% larger battery compared to their predecessors.
Currently, Apple markets all iPhone 14 models as "all-day" devices, but we are aware that the larger Plus and Pro Max models often last even longer and can sometimes stretch to two days of usage between charges.
If the expected battery size increase holds true for the iPhone 15, we might witness the introduction of the first "two-day" iPhones.
Below, you'll find the exact battery sizes for the new iPhone 15 family, along with the changes compared to the previous models. Keep in mind that there have been earlier reports suggesting that the iPhone 15 series might be slightly thicker, which could explain how Apple managed to accommodate these larger batteries.
Model
Battery capacity
iPhone 15 series
Battery capacity
iPhone 14 series
Vanilla (Regular)
3,877 mAh
3,279 mAh
Plus
4,912 mAh
4,325 mAh
Pro
3,650 mAh
3,200 mAh
Pro Max
4,852 mAh
4,323 mAh
*iPhone 15 numbers based on a preliminary report.
Apple's transition to USB-C charging on the iPhone might not necessarily lead to a significant increase in charging speeds. While it's not certain, it's reasonable to expect that the smaller models of the iPhone 15 could support around 25W charging speeds, while the two larger models might offer 30W charging.
Recent rumors, however, have hinted at the possibility of much faster 35W USB-C charging for the iPhone 15. This speculation arises from the introduction of Apple's new 35W Dual USB-C charger. By comparison, the iPhone 14 supports charging speeds of up to 20W, and the Pro models can handle up to 27W of wired charging. A 35W solution would likely result in even faster recharging speeds.
With a 35W charger, it could take a bit over an hour for an iPhone to be fully charged. However, it remains uncertain whether the faster wired charging would be available on all iPhone 15 models or limited to the iPhone 15 Pro and Pro Max.
All four models of the iPhone 15 will most likely continue to support MagSafe wireless charging, just like the previous few generations of iPhones.
iPhone 15 anticipated features and software
The iPhone 15 family will launch with iOS 17, which was announced at WWDC'23.
iOS 17 introduces various improvements to several apps, with the most significant updates coming to the Phone, Messages, and FaceTime apps. There's also a notable enhancement to autocorrect, and Siri can now be triggered by saying "Siri" instead of "Hey Siri."
Among the changes, the Phone app stands out with the new Contact Poster feature, allowing you to set a full-screen profile picture for yourself that will be displayed when you call others. Another new addition is NameDrop, which enables you to exchange contact information by bringing two iPhones near each other. In the Messages app, animated stickers created from Live Photos add a fun element.
A notable feature is the Standby Mode, where your iPhone functions as a mini home hub, showing useful information while it's charging. iOS 17 also brings interactive widgets, mood tracking in the Health app, a new journaling app, and more.
This summarizes the current information available, but this section will be updated with new details as they emerge.
Should I wait for iPhone 15?
If you're considering a new phone, it's highly recommended to wait for the iPhone 15. The official announcement is just around the corner, and the upcoming models are expected to offer a range of exciting new features. Even if you're eager for a new phone, it's wise to hold off until the iPhone 15 series is unveiled so you can make an informed decision based on the latest offerings.
However, you might not want to wait for the iPhone 15 if you've come across a fantastic deal on a previous model and are looking to save some money. Keep in mind that Apple is likely to reduce prices on current models once the iPhone 15 series is released. So, while waiting is advisable for the latest features, if you find a great deal on an existing model, it could also be a smart choice.